Adjusting for motorbikes
Tachometer adjustings for digital and analog motorbike speed indicators! This represents no problem for us.
Before the demount of the speedometer please notice the exact odometer reading, since this is important for programming.
You can bring us the dismantled tachometer personally or you send it by mail or parcel service.
IF GMT HAVE TO CHANGE THE SPEEDOMETER, WE CHARGE:
100 EURO PLUS. VAT
Please consider the legal position: "LEGAL POSITION"
Please consider the despatch condition: "TRANSMISSION"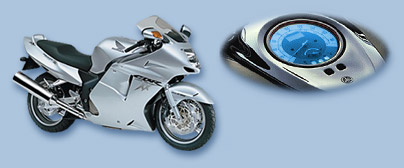 In case you don´t find your motorbike in the following list, please contact us confiding. We help you around the clock.
We are at your disposal in Neuss, Düsseldorf and other towns in Germany.
GMT Tuning
Groethofstraat 25
5916PA Venlo
The Netherlands
Contact us - Service is the biggest component in our company.
Phone: +49 - 173 9450 999
With proudness we look back at 16 years of experience and assure that you and your vehicle can entrust to our safekeeping.
Pricelist for tachometer adjusting October 2004
PRODUCER
MODEL
PRICE IN EURO
BMW
C1
150
BMW
F650 GS
150
Suzuki
Bandit
150
Suzuki
Burgmann
150
Suzuki
GSX-R 750
150
Suzuki
GSX R 1000
150
Suzuki
Hayabusa 1300
150
Suzuki
Intruder
150
Suzuki
TL 1000 S
150
Suzuki
XF 650
150
Honda
CBR 900
150
Honda
Fireblade
150
Honda
Hornet CB 900
150
Honda
VFR 800
150
Honda
VFR 1000
150
Honda
VTR 1000
150
Honda
VT 1100
150
Kawasaki
GPZ 600
150
Kawasaki
GPZ 900
150
Kawasaki
Ninja
150
Kawasaki
ZX6
150
Kawasaki
ZX6R
150
Kawasaki
ZX9
150
Kawasaki
ZX9R
150
Kawasaki
ZX12
150
Kawasaki
ZX12R
150
Yamaha
Dragstar
150
Yamaha
Phaser
150
Yamaha
Tmax 500
150
Yamaha
Wild Star
150
Yamaha
YZF-R1
150
Yamaha
YZF-R6
150

Mechanical tachometers (analog)

A
We are also well versed with analog tachometers and can help in eighter case.

Please contact us!
GMT Tuning
Groethofstraat 25
5916 PA Venlo
The Netherlands
Phone: +49 - 173 9450 999